There may be affiliate links in this post which means I may receive a commission if you purchase something through a link. However, please be assured that I only recommend products I have personally used and love!
---
Update April 2021: I'm not promoting/affiliating for Stu McLaren's TRIBE this year (2021). Instead I encourage you to join Membership Academy if you're looking for support to launch or grow your membership.
Exhibit A – TRIBE by Stu McLaren ?
*Doors are currently closed until May 2021*
Exhibit B – Membership Academy by The Membership Guys ?
*Please note that Member Site Academy changed its name to Membership Academy in July 2019.*
I get lots of questions about TRIBE vs. Membership Academy, so in this post I'm going to try and give you a detailed comparison. Please note that everything in this post is my perception of things and it's mostly my opinion as opposed to fact!
Jump to:
?‍♀️ My Background/Experience
? Structure & Price
?‍? Their Background/Experience
?‍? Content
? Community
? Personalised Support
? Live Events
? Primary Membership Model
?? Love/Hate Elements
? Overall Experience
✨ Role Played In My Business
? Final Thoughts
?‍♀️ My Background/Experience
I launched my membership, ConvertKit Club, in August 2016. I bumbled along with it for almost 2 years before signing up for TRIBE in April 2018. I signed up on the day doors closed, having not partaken in any of the (pre-)launch content. In April 2019 I paid (a reduced alumni rate) to partake again in the live TRIBE 2019 Experience.
I joined Membership Academy in October 2018. I'd been considering joining for a long time, primarily due to enjoyment and respect of their podcast, The Membership Guys Podcast.
I am a proud affiliate for both TRIBE and Membership Academy. I wholeheartedly recommend both for existing and future membership site owners. However, there are a number of significant differences between the two, and I wanted to outline what I perceive to be their unique strengths and value.
? Structure & Price 
This is the most obvious/significant difference.
TRIBE is a $1,997 (or 6 x $397) 9 week course offered once a year around May. (Click here to learn more!)
It consists of 6 core modules covering foundations, content, marketing, retention and growth.
There are also daily Facebook Lives (called '10 in 10s'), weekly live office hours and an extremely active Facebook group community for the duration of the course.
Membership Academy is an ongoing $49 a month membership which you can join anytime.
It consists of the hefty 'Membership Roadmap' course which covers the process of starting, building and launching your membership. There are also 30+ additional courses covering a huge variety of topics including audience building, gamification, marketing automation, managing a team, tech walkthroughs, and more.
There are also 2 live Q&As a month, and an active off-Facebook forum based community.
?‍? Their Background/Experience
TRIBE is created by Stu McLaren, a proud Canadian.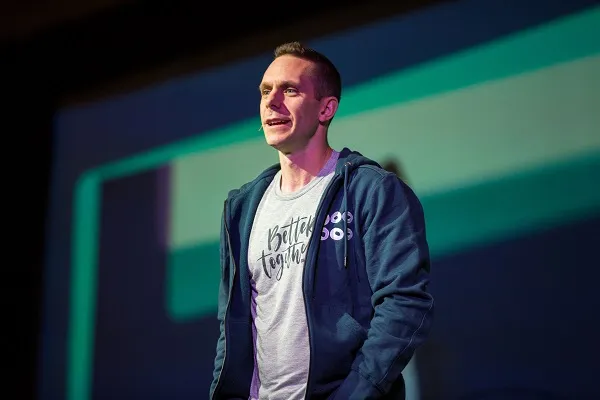 "[TRIBE] leans heavily on my experience being behind the scenes helping over 60K+ membership sites and online communities when I was running WishList Member [a WordPress membership plugin].  After selling WishList Member, I took what I learned from the top performing sites and began teaching it to others in high end workshops ($5K+ per person).  And now, we've had thousands and thousands of people come through the TRIBE training producing a tremendous amount of success stories with people of all levels and in all kinds of markets.  Ranging from health and fitness, to religion, pets, music, art, farming, teaching, business and everything in between – the examples are endless but VERY inspiring.
It also leans on my real-world experience of running 6 and 7-figure memberships myself.  For example, I'll be showing how Michael Hyatt and I grew our Platform University site from 1,100 members in the first week to 2,500 after the first year, 4,500 after the second year and over 6,000 (@ $30/month) after the third year."
Membership Academy is created by The Membership Guys (Mike Morrison and Callie Willows), both British.
"With a combined 20+ years in the online marketing and web development industry, we've been the driving force behind a multitude of 6 and 7 figure membership businesses in a diverse range of industries – from weight loss to coaching to executive training to bass guitar – we have a proven track record of helping great clients to achieve fantastic results.
In 2015 we decided to take all of that knowledge and experience and use it to help entrepreneurs and small business owners just like you to achieve success with membership sites on a global scale, and so the Membership Academy was created. This is now our full time business and we seriously love spending our days creating content and supporting our members."
Both are extremely well respected in the online business/marketing industry. Regardless of if you do TRIBE, Membership Academy or both, you're in good hands!
?‍? Content 
TRIBE is organised into 6 modules, each with 8-12 lessons. Each lesson comprises of a 4-20 min video of Stu, a workbook, the transcript and the downloadable audio. There are also several separate bonus trainings released at various points throughout the course.
TRIBE's content is incredibly engaging and entertaining, thanks to Stu's delivery style. It's also extremely clear and concise – no fluff, just what you need to understand and do to get results.
Membership Academy has dozens of courses on different membership related topics. They vary in length and structure, but are mostly more presentation-style with audio over slides. There's also a wealth of checklists, swipe files, templates, guest expert trainings, etc. All trainings I've explored in Membership Academy are extremely in-depth, but provide clear action steps for implementation in your business.
If TRIBE is a perfectly constructed 6 course meal, Membership Academy is an incredibly diverse buffet. Both leave you feeling extremely well fed, but they go about it in different ways.
? Community 
TRIBE's community is a Facebook group for the duration of the live course, through to shortly after the live event, after which it's archived. It's an extremely busy and active group – which is both a good and a bad thing, depending on how you feel about bustling Facebook groups! Stu is very active in the Facebook group, and it's where his daily Facebook Lives to answer 10 questions take place.
After the course group is archived TRIBE participants are then invited into the TRIBE Alumni Facebook group which is active all year around, although Stu is less active in there once the main course period has ended.
Membership Academy's community is inside the membership site itself (i.e. not on Facebook) and is structured like forums. It's not as active as the TRIBE community, however it's arguably much more easy to navigate and engage with. There are several sections for different topics, and posts can include an array of formatting – this makes it a much more pleasant experience overall. Both Mike and Callie are extremely active in the community.
? Personalised Support 
For transparency, I've never really sought out personalised support in either TRIBE or Membership Academy beyond posting in the respective communities.
TRIBE offers a variety of different options for personalised support including:
the opportunity to submit a question for Stu to answer on his daily '10 in 10'
the opportunity to submit a question for Stu to answer in the weekly live office hours
posting in the Facebook community and getting a huge variety of feedback from other participants
Whilst there are plenty of opportunities to get feedback/advice directly from Stu on your membership, I wouldn't go into it 'expecting' it. TRIBE is an extremely large, busy course with thousands of participants. Whilst Stu and his team work hard for the duration of the course to offer as much personalised support as possible, and they do an incredible job considering the scale of the course, logistically it's not always possible or practical.
For me, the real personalised support in TRIBE comes from the fellow participants who are extremely quick to share their experiences and advice. However, with any course like this, discretion is needed about who is offering support and advice based on their own real-world experiences as participants are at all different stages of business and membership success.
Membership Academy offers personalised support in three main ways:
During the live Q&A calls twice a month
In the main community/forums
Via a special section of the community/forums where you can get private coaching with Mike and Callie.
I have never submitted a question to the live Q&A, or taken advantage of the private coaching available to me, but I very much feel that should I need/want personalised support and feedback from Mike and Callie, they are extremely accessible in a variety of ways.
? Live Events 
TRIBE includes a free ticket to TRIBE Live, a 3 day event in Toronto, Canada (usually in July/August). Unfortunately I've never been able to attend TRIBE Live, but people rave about it and it's very clear to see that a huge number of connections and ideas are created there. Stu also runs a couple more informal TRIBE community meetups around the world a few times a year, often coinciding with other large events in the online marketing calendar.
Membership Academy also runs informal meetups (mostly in USA and UK) a few times a year. In September 2019 they also hosted their first 2 day conference, Retain Live, which featured a full lineup of speakers. Membership Academy members received a discount. They plan to hold another one in 2021.
? Primary Membership Model
One significant difference between TRIBE vs. Membership Academy is the primary membership model taught/favoured.
TRIBE primarily focuses on the closed membership model where you open doors, do a big launch, and welcome in lots of new members a few times a year. Most of the year your membership is closed.
Membership Academy primarily focuses on the open membership model where doors are open to your membership all year around.
The decision to go with the open or closed membership model is only a very small part of what TRIBE and Membership Academy teach, however it is a difference in overall approach/philosophy.
?? Love/Hate Elements 
The things in both TRIBE and Membership Academy that some people will love, are likely to be the exact same things that other people will hate and find really overwhelming.
TRIBE is a really focused, intense, 2-3 month experience. It only launches once a year and you go through the same, super structured, step-by-step content with 1000s of other people. The momentum you get from that is incredible, but you can start to feel a bit behind or overwhelmed with all live elements for the duration of the course. (Please note you do have lifetime access to the version of the course you purchased, as well as the different live elements such as Stu's '10 in 10's).
Membership Academy arguably has a much heftier library of in-depth training and content, but it's not so structured. It's a much calmer ongoing, supportive experience, however there is more onus on you to choose courses to work through and implement in your business.
? Overall Experience 
It feels a little unfair to compare overall experience, as one is a course and one is a membership, but they both are an absolute pleasure to be part of, just in different ways.
Having spent $10,000s on online courses over the past 6 years, TRIBE's overall experience is the gold standard:
The thank you page the minute you buy
The advanced gamification
Overall structure and delivery
Perfectly crafted entertaining and engaging content
Little 'wow' details and bonuses throughout
Ever building momentum that just carries you through
The TRIBE course had me hanging on Stu's every word for 8 weeks. I've never engaged with a course the way I did with TRIBE, and I put that down to its meticulous construction. The sense of being part of something big (a movement of membership owners – Tribers!) really unites you together, and despite the scale of it all, Stu does an incredible job of ensuring everyone feels seen and heard.
To call it a course doesn't really do it justice. It's an experience, and you have to experience it for yourself to understand. It's really quite exquisite, and I don't say that lightly.
Having been part of over a dozen membership sites, unsurprisingly Membership Academy is one of the very best in terms of overall experience. They really practice what they preach(/teach!). Onboarding is very slick and you're immediately directed to tailored courses after filling out a few questions. The weekly Member News email, combined with the monthly Academy Show, allows you to feel very connected with what's going on, without getting super overwhelmed. Whilst there's not the same sense of collective momentum in Membership Academy, as everyone is at a different point in their membership journey, there's a huge sense of comradery amongst members and I think Mike and Callie have created a very enjoyable member experience.
✨ Role Played In My Business
Spontaneously signing up for TRIBE in April 2018 was a commitment to continuing to include memberships as an income stream in my business. Whilst I was currently largely happy with my membership, I knew that more was possible for it, and for using the membership model in other ways in my business. I loved the whole TRIBE experience and implementing what I'd learnt, combined with an unexpectedly good business decision (relating to GDPR!), led to me more than quadrupling my membership within 4 months.
After all the energy and momentum from TRIBE had died down a bit, I was still wanting ongoing support, community and mentorship for my membership. That's where Membership Academy came in. The ongoing, membership model of Membership Academy really helps me to feel connected into the membership site world, and the new courses and weekly Member News emails keep prompting me to set aside time to work on my membership.
? Final Thoughts 
If you're looking to launch a membership or grow an existing membership, both TRIBE and Membership Academy are fantastic programs to support you to do that. Both will provide you with the world-class training you need to shortcut your results and be the proud owner of a successful membership that's a joy to run.
But, you've got to put in the work. (Unfortunately!) no-one else can do it for you. So, as I see it, the main difference between TRIBE and Membership Academy comes down to you knowing yourself and knowing the style and format of program that best supports you to take action. Do you work better with intense, shorter, focused experiences (TRIBE)? Or do you prefer to take things at your own pace and you're looking for more ongoing support and accountability (Membership Academy)? Would you prefer to be taken through a very clear, step-by-step process with 1000s of other people (TRIBE)? Or would you prefer a wider variety of trainings that you can pick and choose your own adventure (Membership Academy)?
---
---
I really hope you've found this TRIBE vs. Membership Academy comparison helpful. I've tried to be as fair as possible to both TRIBE and Membership Academy. To get the full details on what's included in both, you'll want to take a look at their respective sales pages (TRIBE / Membership Academy)
If you have any specific questions about either that you'd like my take on, please do catch me on my live chat, leave me a message there, or email me at [email protected].